Every year tourists flock to Brussels to sample its world renowned chocolate, beer, waffles and sprouts, but this fine city is also at the heart of European politics and business. As the effective capital of Europe, Brussels houses the European Commission (EC) where decisions are made every day on legislative issues, such as trade and employment across European Union nations, that inevitably impact on the wider global economy. But much more importantly (!) last week the EC played host to the first international conference on regional climate. Okay, so there is some debate about whether this was in fact the first conference of its kind but nevertheless there probably hasn't been an occasion when quite so many scientists and policymakers, all with an active interest in regional climate, have gathered together in the same (thankfully rain-proof) building. The reason for such a large turnout? After a number of years of collaborative efforts across the world, CORDEX (Co-Ordinated Regional Downscaling EXperiment) finally has some results…actually, rather a lot of results!
CSAG were certainly well represented among the 600 participants who attended, with about a dozen of us flying the red and blue CSAG flag. Bruce, Chris Lennard, Peter (aka "user") and Izidine (both giant and actual size as shown below) gave thought-provoking plenary talks. Many of the rest of us also presented in the poster sessions. I think it is fair to say that the regional climate community is strengthened by CSAG's contribution and the work of the group was regularly referred to (and not just by ourselves) throughout the conference.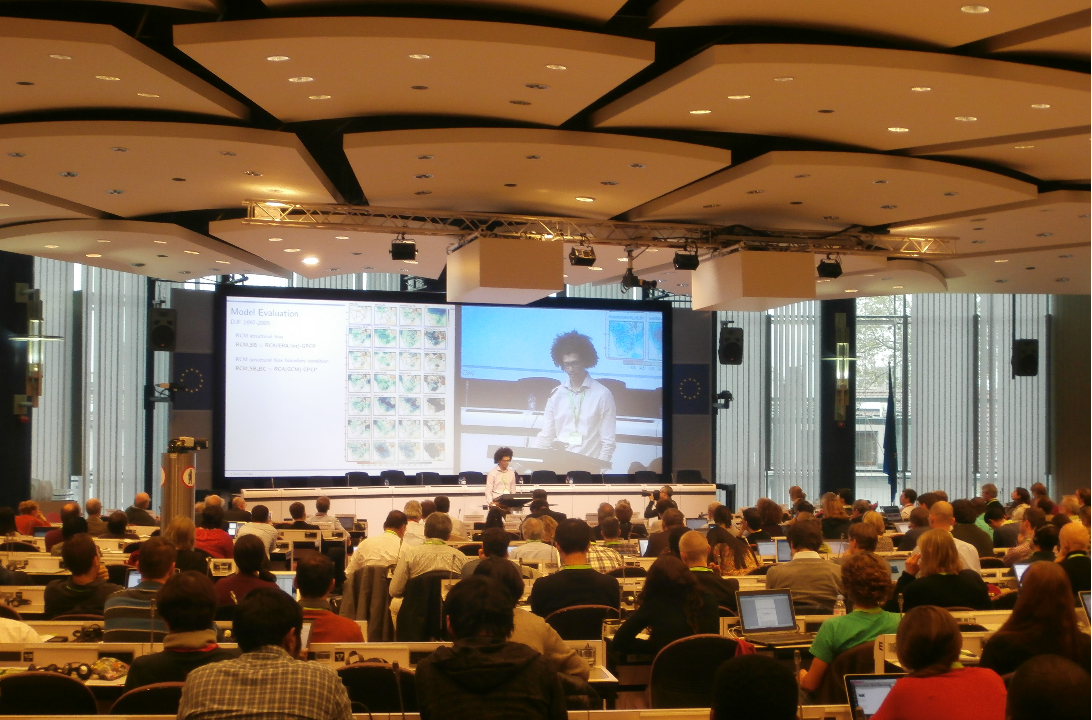 The conference began with a day dedicated to the policy implications of regional climate research. On the back of the recent IPCC WG1 assessment, leading scientists, policymakers and private sector representatives discussed the advances and remaining challenges confronting the climate science-policy interface. One of my take-home messages came from Paula Caballero Gomez, from the Ministry of Foreign Affairs in Columbia, who commented that there is still widespread "adaptation illiteracy" in the UNFCCC as it muddles through complex issues of adaptation primarily through their "loss and damage" agenda. In addition, someone (unfortunately I forget who) highlighted the lack of climate science studies on research that has gone wrong; Claire's blog is a timely reminder of the importance of these studies. Should CSAG perhaps be a champion of negative results and take the lead by writing a paper on "climate science gone wrong"?
The remaining three days of the conference followed a typical academic conference structure with plenary talks followed by parallel sessions. At the beginning of day two, Bruce Hewitson and Fernanda Zermoglio both gave passionate talks reminding us of the importance of the CORDEX project in supporting capacity building of scientists across the world and in enaging the user community in a "co-exploration" of the science knowledge base; a concept that made it into the three grand challenges presented by Filipo Giorgi at the end of the conference (the others being added value and uncertainty). Later on day two, Chris Lennard and Chris Jack (pictured below – presumably finishing his talk) spoke at a lunch time session aimed at early career scientists. For me, and I expect many others, this was one of the highlights of the conference. I am always unsure of these seemingly contrived sessions but because of the interesting talks and follow-on discussion I came out feeling rather positive about a future career in climate science; I expect many others felt the same.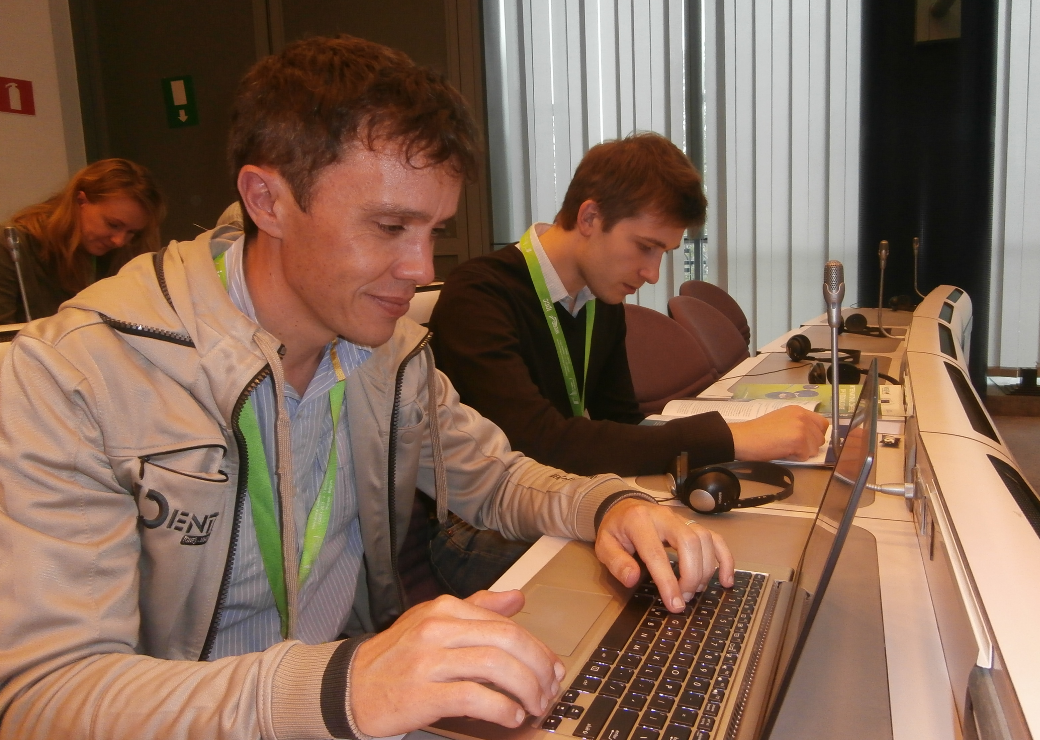 I could go on to give the details of all the talks and discussions which made me think but the list would be too long, reflecting the high quality of the conference as a whole. So in the interests of brevity, I will simply mention a few personal highlights.
Friederike Otto gave a clear overview of the attribution work currently going on at the University of Oxford. The work relies on "ensembles of worlds that might have been" and could have an enormous impact on many climate policy issues, not least the supply of adaptation finance. Carol McSweeny, from Richard Jones' group at the UK Met Office, spoke about their work on model selection. She carefully explained the approach their group are now adopting to "kick out" implausible models and sub-select a smaller sample of GCMs for downscaling as a pragmatic solution to computational and analytical demands. Erin Coughlan spoke about the work of the Red Cross Climate Centre, familiar to many in CSAG. She made a compelling case for the need to improve communication to inform humanitarian decisions and talked about their novel use of games as a communication device. Finally, Peter Johnston must get a mention, not only for amusing the audience with his tales of regional downscaling addiction, but also for demonstrating the vital importance of translating downscaling results into actionable information that can be understood by different user communities.
Aside from the conference, and of course the Belgian waffles and beer, we also discovered that Brussels is a truly magnificent city. Famed for its Art Nouveau architecture, our host Oana showed us some stunning buildings as we explored the city on an evening drive. Hoping I would pick one of the more historic buildings, when asked which one was my favourite I inevitably disappointed her by answering "the Atomium" …but then it is pretty cool!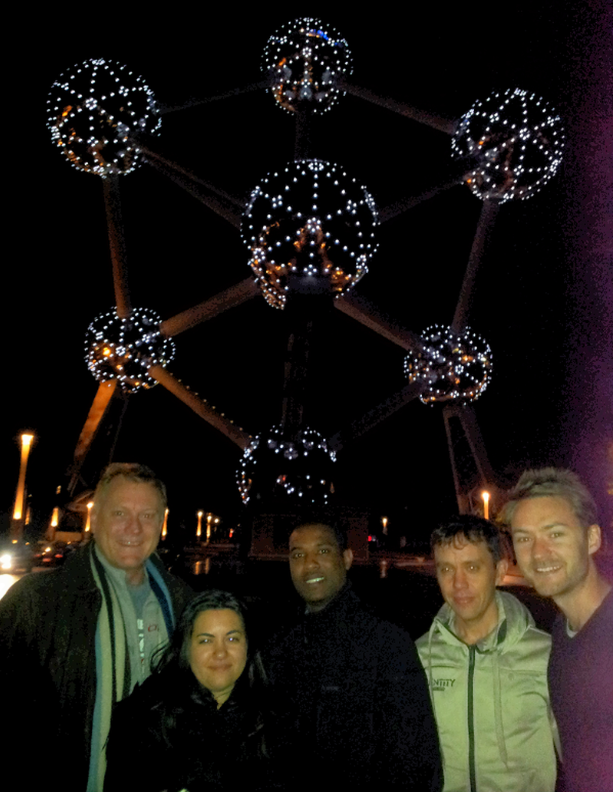 Check out the video of speakers at the conference here