In order to celebrate all those who have contributed to the CSAG blog over the past few years, and to pay homage to the most interesting, entertaining and thought provoking blog posts, the Joe Blogs Award for the CSAG blog of the year has been established. It may be a little overdue but this morning the winner of the award for the 2013 CSAG blog of the year was announced. An "Academy of the Blog" was assembled and members of the academy were requested to vote for their favourite post from a list of nominations – so yes, we adopted the first-past-the-post (pun intended) form of democracy. Before I announce the winner (no scrolling down), let's take a look at the nominations – queue montage and music.
In no particular order, the nominations are:
I hope you'll agree that each blog post provides for an interesting read. There were many other contenders so I'd encourage everyone to go back through the archives and find your highlights.
So, without further ado, the winner is…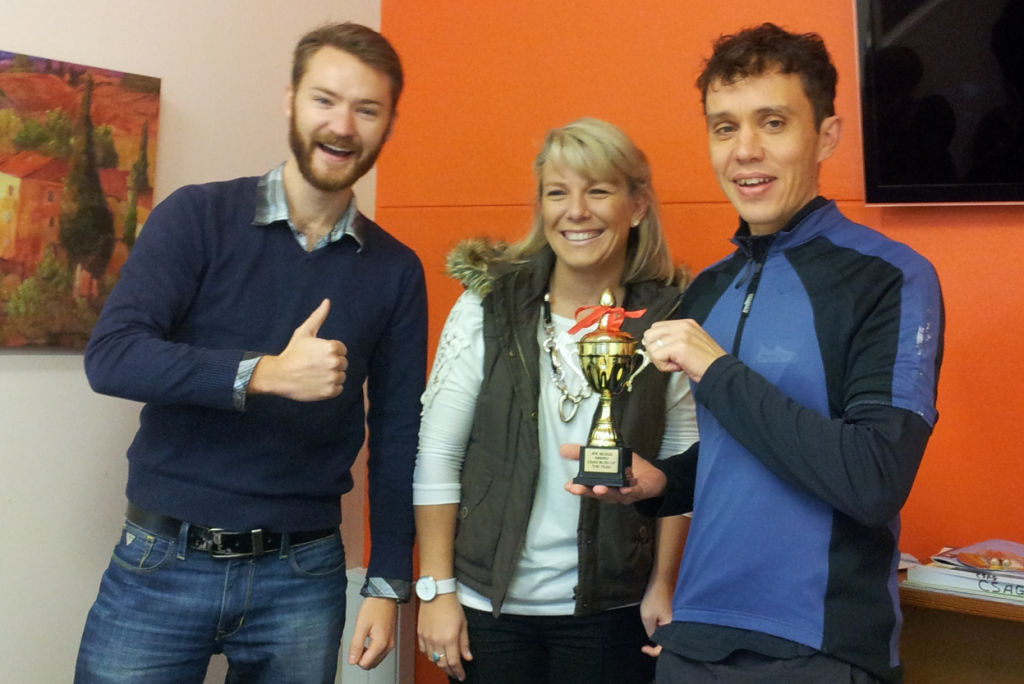 … Chris Jack for "Climate Change Apathy"! Chris is indeed a deserved winner. Not only was the blog post well written but it also led to quite a discussion and raised some important questions for everyone involved in climate change research and practice to consider. For the awards ceremony Chris was wearing the latest cycling fashion by the designer Monsieur Blue et Black.
Hopefully we can make this an annual event. Though perhaps the award for 2014 should be announced in February as this is, of course, awards season! So if you want a chance of winning the coveted award in the future, then please do continue to contribute to the blog.
As I am moving back to the UK I will be passing the management of the blog onto Kate Sutherland (pictured above) from July. However, I will remain an avid follower and I look forward to reading many more thought provoking and entertaining posts in the future.
It's been a pleasure!