The overall objective of the project is to enhance the capacity of policy analysts and scientists in the fields of agriculture, climate and socio-economics to collectively build a strong base of evidence on cropping systems to inform adaptation policies and investment decisions. 
The Climate System Analysis Group has been engaged in the Strengthening Evidence-Based Climate Change Adaptation Policies (SECCAP) project lead by FANRPAN (Food, Agriculture and Natural Resources Policy Analysis Network). The project, funded by IDRC (International Development Research Centre), covers three SADC countries (Lesotho, Malawi, Swaziland). The project aims to contribute to evidence-based decision making for policy makers and development practitioners through a systematic research process integrating climate, crop production and livelihoods data, and carrying out cost benefit analysis on the identified adaptation options.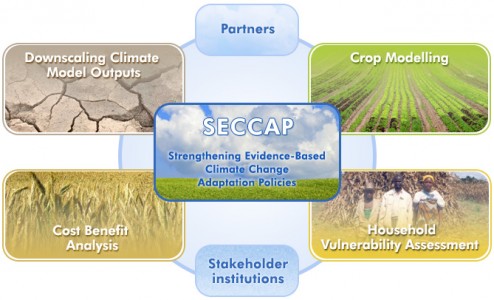 CSAG's contribution to the project has involved generating downscaled climate data for the Maphutseng district in Lesotho, Lilongwe districts in Malawi and in the Mpolonjeni district in Swaziland. CSAG was then further tasked to integrate the downscaled climate scenarios with crop models in order to generate crop production maps for the designated districts for 2050. Observational crop production data from the focal districts were used to validate the crop model outputs.