I've recently attended a conference outside Africa and noticed that many people at the conference knew where Mozambique was located. And Mozambique happens to be where I'm from. Almost every year there is a weather related hazard affecting Mozambique due to its geographical location and many other social factors. To compound these hazards, there has been an increase in population and infrastructure along the coastal cities resulting in an increase in tropical cyclone related damages. And what put Mozambique in the global map and news stations was the recent tropical cyclone (TC) Idai that formed in the Mozambique Channel and made landfall as category 2 during the night of 14 to 15 March 2019 in Beira city causing severe damage not only to the coastal city but inland cities as well.  
Idai moved slowly inland, remaining nearly stationary causing heavy rains and strong winds in Manica province in Mozambique and eastern Zimbabwe causing flash floods. Cyclone Idai was the second event this year in less than two months to hit the same region and one of the catastrophic natural disaster ever recorded in southern hemisphere with estimated over 1000 people killed in 3 countries and damages over $1 billion USD. The first was he tropical storm Desmond.
Prior to cyclone Idai formation a tropical depression had formed of the coast of Zambézia province and on 4th of March the Mozambique National Institute for Meteorology (INAM) issued a warning of heavy rainfall and strong winds. This tropical depression moved inland and caused floods in the region including Malawi before it moved into the ocean and classified by the Joint Typhoon Warning Center (JTWC) as tropical cyclone. The figure on the left shows the evolution of the system and rainfall estimates as simulated with the WRF model. The figure on the right shows the impacted areas and track of the system from the beginning.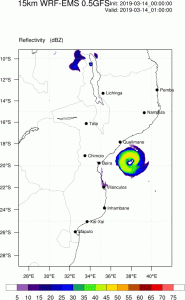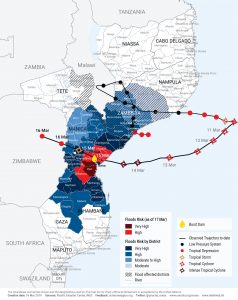 Source: Reliefweb
In less than a month after Idai made landfall, the third large event the tropical cyclone Kenneth made landfall on 25 April as category 4  in north of Mozambique during the main harvest season. According to NOAA's historical hurricanes database this is the strongest cyclone ever to make landfall in that part of the region.  According to the National Institute for Disaster Management (INGC), this tropical cyclone has affected 168,254 people and at least 38 people have died as of 29 of April 2019.
These are a series of unprecedented events in Mozambique. Can we say that all these events were caused by climate change?  Or to what extent the impacts of these events intensified due to human influence in the climate? One thing certain is that climate change played a role by changing the odds of these events. However, attribution studies are needed here to better understand how climate change affected these events and this is a topic for a research paper….
But climate event is one thing, and the disaster it causes is another. Sometimes it is useful to separate the event from its consequences. The three events were strong, but was their impact so high only because of their strength? Or was it also due to other factors? It is very likely that in Mozambique, aspects such as poor urban planning, inadequate land-use planning and poor quality infrastructure has significantly contributed to the problems cyclones caused.
The road to recovery
Can the disaster brought by cyclone Idai be a good thing in terms of resilience? Skidmore, M. & Toya, H, (2002)  suggests that natural disaster are good for nations as it boosts economic growth..  But can a poor nation of Mozambique and city of Beira take advantage of this effect? Probably yes, but there are many elements to build resilient cities to climate disasters. The one factor that matters the most are national policies and here there is an opportunity for policy-makers to formulate effective plans to address underlying problems that brought on the catastrophe (such as the mentioned poor urban planning, inadequate land-use planning, and poor quality infrastructure) taking into account climate information. There are a series of reports under the project Responding to climate change in Mozambique (INGC Phase II, 2009–2012) that highlights many of the issues with coastal cities including Beira and climate change that the city should take into account towards the road to recovery and resilience. These studies might need to be revisited and updated in light of advances in the science. 
We need to learn how to reduce the impacts of such disasters in the future and not miss this unique opportunity to change the underlying conditions and build back better.
Title figure source: https://twitter.com/GeodeBruin/status/1123648012050403328/photo/3