The CSAG Winter School is an intensive course aimed at mid-career professionals engaged in decision and policy development which may involve issues related to climate change and adaptation. The course is now on its 7th year and in 2016 we will be implementing a few changes.
The 2016 course will be a 5 day course that will run from 27 June to 1 July 2016.  For more information on the course please use the menu below.
View our brochure: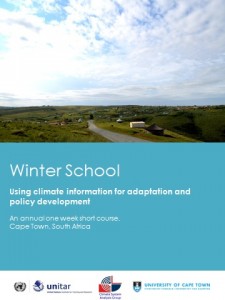 Follow the link below if you would like to join the mailing list to be informed about this course and other courses provided by CSAG.