"Conservation is a state of harmony between men and land"
                     Aldo Leopold (1886-1948), U.S. Naturalist, Conservationist and Philosopher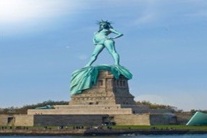 Conservatism may be defined as reluctance in accepting abrupt changes while sustainability means  functioning of the ecosystem in perpetuity.
Man was at peace with his environment in the early days, taking and returning materials from it  without debasing the very usual resilience of his coherence with nature. As a lad growing up, I used  hear a lot of this popular proverbial saying 'Go to the ant, you sluggard! Consider her ways and be  wise'. I really did not give this  much thought until few years back when the hydra-headed monster,  Climate change became a major issue in the world's political, social and economic realm and the menace it poses to human continued existence on planet earth.
The ants are a tiny creature, living together as a group (gregarious) watching out for one another  especially their young ones. It gathers food in the summer and autumn while it relaxes during the  winter. In his quest for economic development and industrial growth, man has completely forgotten  that conservatism is synonymous to sustainability and this negligence has brought about catastrophic concepts like global warming and climate change, erosion, desertification among others. The early man (before the industrial revolution) conducted his way of life in a manner that nature approved of.
First and foremost, if we consider how the conservative man got his food from nature, then we would see why nature was always kind to him and never rewarded him with erosion and drought. He tills his land with simple farm tools, made ridges in a way that were in consonance with the ecology of the land (so that erosion never occurred). He used resources such as leaves, cow dung from the farm to increase the soil nutrient. This nutrient enriching system had little impact on the soil and environment (so that siltation and eutrophication of rivers do not result from the use of industrial fertilizer). He ploughed his land with the members of his household in the wet season and takes off time to enjoy festivities during the dry weather similar to the gregarious way of the ants. He also plants trees on the same farm with arable crops. The nature because of this gesture always made sure that land remained fertile for man to get his food to sustain his livelihood. However, the new man in his wisdom believes that this old way of life was too crude and old-fashioned so he decided to apply fertilizer to land; in return, he got siltation, eutrophication of streams and death of aquatic organisms. He also decided to standardize his crop and nature paid him with pest and disease incidence. He uses heavy machinery to till the soil and leaching of nutrients results.  His artificial irrigation system disrupts the trough level of the water table. The present man believes that he does not need the trees so that he could build his industries and houses, yet he complains of desertification, erosion, acidification of the oceans and loss habitat and biodiversity.
Secondly, in the traditional system, the old men made use crude tools in making life comfortable for themselves. Their political system was representation by all and decisions were always unanimous and bottom-up though painstaking. The new man believes that this method was too rigorous. Therefore, he decides to make use of industrial chemicals, aerosols, fossil fuel and nuclear nukes. Consequently, he got feedbacks like environmental degradation, rise in sea level, ozone depletion, cancer, etc. He decided to modernize his political structure where a large majority is represented by few; in return there was economic recession, societal conflict and impoverishment of many to the benefit of the few.
It is pertinent to note however, that moving outside the old realm has also birthed positive changes. Examples can be said of improved drugs (as against the traditional man making use of medicinal products from trees in no appropriate quantity), knowledge of the eco balance, etc.
My submission is that while we strive to improve the quality of life for ourselves, this should be done in ways that are ecologically stable, socially acceptable and economically viable. Then we can enjoy life like the small ants that always look ahead of themselves and know certain action or inaction today will come back and continue to hunt them in the future.
References
Encarta encyclopedia
Wikipedia encyclopedia
http://www.aviewoncities.co
http://iseeahappyface.com/the-statue-of-liberty-undressednudem/gallery/nyc/statueofliberty.htm
http://www.bible.ca/ef/expository-proverbs-6-6.htm
http://www.google.com/imgres